Exciting news for all fans of the notonthehighstreet founder!
Holly Tucker MBE is on tour around the UK to celebrate small independent businesses.
And she is coming to Cheltenham.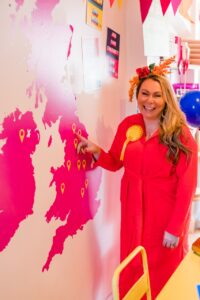 (Photo courtesy of Jake Baggaley Photography)
Holly will be jumping on her Small BUSiness Bus and arriving late afternoon in Cheltenham on Tuesday 22nd June.
As the UK Ambassador for Creative Small Businesses, British entrepreneur, philanthropist, author and owner of Holly & Co – a small business advice and inspiration platform – Holly is an inspirational business leader and mentor.
Now you have the chance to meet Holly in person.
Holly will be parking her tour bus at Catherine Colebrook's shop at 38-40 Andover Road, Cheltenham GL50 2TL late afternoon on Tuesday 22nd June.
You can follow the bus progress via Instagram @HollyTucker.
Join Holly and her team for cocktails to celebrate female founders, women in business, independent shops and Cheltenham.
Our Head of Marketing, Anne Wall will be there:
"I am really excited about this opportunity to meet Holly and her team" she says. "When I started my own business in 2009, I read Holly's books for inspiration and advice. Now I am a big fan of her podcast 'Conversations of Inspiration'.