As part of our "Let's Talk Business" series, today we chat to our client Ellen Roome of The Finance Roome.
Following a career in financial services, Ellen Roome decided to start her own insurance and mortgage brokerage firm The Finance Roome in 2006. Ellen had worked with a business coach in the past but, upon realising she needed help to take things in a new direction, it was ActionCOACH that provided the right solution.
"I brought a coach into my business to help make things more efficient," said Ellen. "But I realised things needed to be looked at from a new perspective – it seriously felt like Groundhog Day. In one of my previous roles, Billy Smith was my boss and we always had a great working relationship. When I found out he had started his own ActionCOACH business coaching firm, we discussed whether he could help me with The Finance Roome.
"We met up in September 2019 and discussed what stage the business was at and what areas needed improvement. Very quickly, we had a plan in place, and it was up to me to commit to coaching sessions with ActionCOACH Cheltenham. Without any hesitation, I signed up and our weekly coaching sessions started very soon after."

Finding a New Perspective
First, the pair refined their plan to implement a proper schedule. Ellen noted down the elements of the business that needed help, whilst Billy outlined the steps needed to see an improvement. Once the plans were set out, they wasted no time in putting them into action.
"The team hadn't bonded as well as I would've hoped. A few staff members had left, and I recruited very quickly to fill the positions although they were not quite the right fit. Billy explained how recruitment needs to be dealt with carefully because, as I'd found out, recruiting for the sake of numbers was not the best solution. We stripped the process back and created a personality profile of the existing workforce.
"We conducted psychometric testing on the team, including myself. What type of person, in both their personality and skillset, did I need to fill this role to complete it properly? What were the traits of our best people, and how could I replicate this with future employees? This activity was an eye-opener as I thought things were going in my desired direction.
"Another activity proving invaluable was bringing the team along on the journey of the business. They're part of The Finance Roome story and I understood how crucial it was to have them involved with its success."
With the right team in place, Ellen focused on the processes in her business. Billy shared with Ellen the importance of tracking results to know exactly what stage the business was at and where it was heading, as well as noticing any areas requiring attention.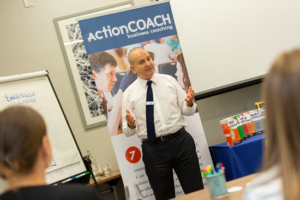 New Obstacles
When the COVID-19 pandemic sent the country into national lockdown in March 2020, Ellen was initially very concerned.
"There was uncertainty for everyone. Furlough was a new word for every business owner – there was definitely an initial sense of panic. Luckily, having Billy was a huge help. Not only did he give me advice on how to move forward, tapping into the information he was receiving from ActionCOACH's global network of coaches was extremely valuable."
The Finance Roome – A Booming Business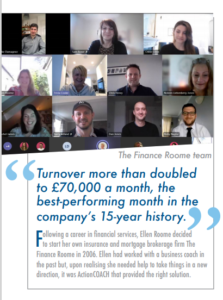 Turnover Has More Than Doubled
In the first 18 months Ellen and Billy worked together, The Finance Roome saw impressive results. Turnover more than doubled to £70,000 a month, with December 2020 being their best-performing month in the company's 15-year history. It's this confidence in business Ellen hopes to continue with to make her firm a booming success.
"We're experiencing record highs of enquiries. After the initial dip in the second quarter of 2020, new business leads have been increasing ever since. The dynamic within the team has been like never before. We're extremely strong, which is down to the emphasis Billy urged me to place on employee wellbeing and satisfaction. We have a 'team scrum' every morning before we start the day to get focused, with a Friday after-work beer to help us unwind for the weekend. It's helped massively."
With the business operating smoothly, Ellen can't help but think about what's next. Now she wants to focus on her other business, a private charter flight service, and she knows exactly what it takes to allow her to achieve that goal – The Finance Roome has to reach a point where it can work without her.
"I'll be working with Billy to get the processes ironed out and in place before I take a step back from the everyday operations. I'm excited for the opportunities ActionCOACH and Billy have given me, in every aspect of my life.
"In my personal life, I want to be able to spend time with my partner and my 13-year-old son. As the business grants me more freedom, it will be great to devote precious time to them. I've just bought my dream house so we'll also be able to renovate it as a family and enjoy time together."
Billy Smith Says ….
"It's extremely rewarding being Ellen's coach. She knows exactly what she wants and adopts everything I suggest – making it happen each and every time. She understands me and trusts me on a personal level too, which is a great benefit with clients. She's always an absolute joy to work with.
"Seeing Ellen achieve her goals and transform not just her life but her team's lives too, makes everything worth it."
If you'd like to talk to us about our coaching programmes and how they can benefit YOUR business, please get in touch today here today!