Kate from Resin8 Wins Best E Commerce Business Award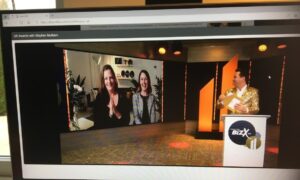 Well how proud are we?
Absolutely fantastic news that our client Kate from the resin craft company Resin8 has been voted the Best E Commerce Business at our UK National Awards Ceremony.
The judges praised her business for its exceptional growth in the past year, her strong performance in exporting, recruiting and growing her team (from 2 to 32 in just 3 years) and Kate's management and leadership skills.
Kate said:
"I couldn't have done it without the support of Billy Smith. He's my Super Hero"
Coached by Billy Smith, our Senior Coach and Managing Director here at ActionCOACH Cheltenham, Kate thanked Billy in her acceptance speech, saying how she much she appreciated the support we offer her and how important her daily frogs are!
Watch the full video here.

Kate is one of our super hero clients too and you can read more about her amazing journey of business success and how we support our clients' goals here.
Here are some of the reasons why Kate is an Award Winner:
We Share / We Champion / We Inspire
We follow our customers' resin adventures, share experiences, handhold, rejoice in successes and help our customers achieve their crafting dreams with advice, support and specialised high-quality products.
We Are Global
Don't let our small Cotswold business status fool you… we punch well above our weight!  We ship all around the world. To Guam, Malta, Ukraine, USA, Australia, the list goes on ….
We Are Expanding
Already stocked at the UK's leading online jewellery supplier, we are growing our brand reach through exciting initiatives with suppliers and are in the final phases of discussion with two household names, major bricks and mortar retailers.  Watch this space!
We Are Smashing Our Financial Goals
With the support of our ActionCOACH, Billy Smith in Cheltenham we have increased turnover and profitability significantly.
We say:
We may not be able to promise you'll win an award every year, we CAN offer you support, guidance, strategies and techniques to grow your business and achieve your lifestyle and financial goals.
If this sounds like something you'd like to talk to us about, please get in touch today here today.